Body
Two connection modes exist: Human-to-Machine and Machine-to-Machine/EDI (a combination is possible).
Connection via Internet browser (H2M)
Body
All you need for an H2M (Human TO Machine) connection is a computer or a tablet, a browser and Internet access. As a registered user, you receive your customers' EDI messages as a SupplyOn web form. You can also send the data back via the browser - your customer receives it as an EDI message.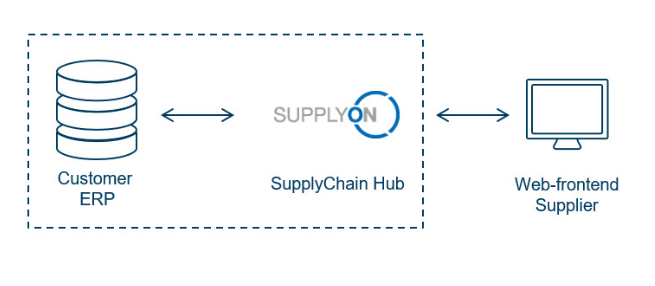 Body
With an M2M connection (Machine TO Machine), you can integrate automatic data exchange. To implement the relevant business processes, you need a specific connection and assignment between your ERP system and SupplyOn. You can choose between two communication channels: OFTP2 or AS2 via a secure Internet connection.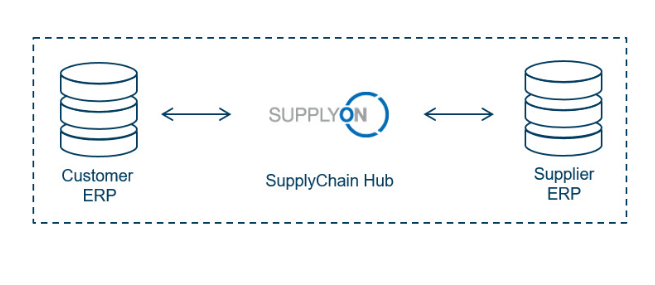 SupplyOn offers various channels to exchange collaboration data
Body
M2M/EDI mode is recommended in case of high data volume exchanged between customers and supplier. The supplier manages its project with SupplyOn.

Body
| Application | AS2 | OFTP2 | HTTPS | Message formats |
| --- | --- | --- | --- | --- |
| Supply Chain Collaboration | X | X | X | EDIFACT format and VDA container for attachments |
| AirSupply | X | n/a | n/a | BoostAero XML or AirSupply CSV |
| Invoicing | X | X | n/a | UBL XML or EDIFACT with VDA container for attachments |
| Problem Solver | X | n/a | X | SupplyOn QDX XML format |
Checklist - Find out if you can use our EDI service or not
Body
Are you already EDI-enabled? Does direct data exchange via your ERP system benefit you? ... Or is the web-based solution more suitable?
If you can answer the questions with "Yes", then EDI fits for you.
Body
Budget and resources

 You are willing to pay an one-time implementation fee (if not covered by your customer) as well as running costs for the usage.

 You have identified the right resources for e.g. ERP/MRP, network/connectivity, mapping, business and project management. 

  The technical feasibility, availability and budget are confirmed for your team or your third-party provider(s). 

Technical capabilities

 You or your EDI service provider is able to connect via offered options and to process offered message formats.

 You are able to create message out of ERP/MRP system e.g. Order response, dispatch advice, invoice or 8D report with the expected content and in the expected format.

Migration or Transformation

 You are used to manage relevant processes via EDI.

*If no, efforts for implementation will increase. Our recommendation: Start using web-based process to learn and involve external experts for EDI setup.
Body
Process expectations

 Have you already agreed the scope with your customer? (e.g. product groups, countries, maintenance service, repair services or type of invoice documents)

 Have you already agreed the process-specific customer requirements with your customer? (e.g. one or two level packing or license plate for ASN, Invoice date <= 3 days in the past)

Content requirements

 You are able to include e.g. Plant code, OrgCode, supplier code, article number, order number and position from your ERP system to the message and the data match with the data in SupplyOn. (e.g. from demands)
Shop our EDI services online
Body
Here you find a range of standardized connections for the electronic interchange of business information – depending on your connectivity, message protocol, application and customer.