In this article, you will find out how to download delivery instructions in the SupplyOn Service Supply Chain Collaboration.
Login to SupplyOn with your user ID and password and navigate to "SupplyOn Services"-> "Supply Chain Collaboration".
Open up the submenu for "Demands" on the left-hand side and click on "Delivery Instructions". You are now forwarded to a table of all current delivery instructions.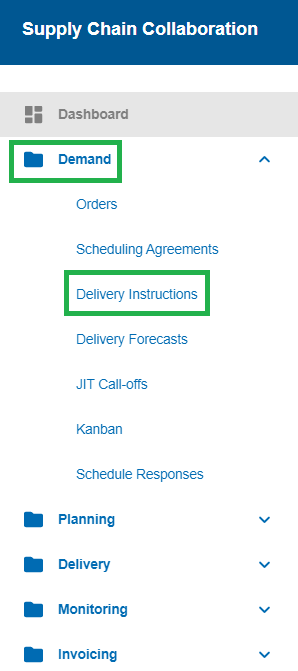 A table is created in which the filter is per default set to "current". This way, only the most recent versions of the delivery instructions are displayed.
Should you wish to remove this filter, please click onto the little arrow within the column "Current" and remove the filter for "Current".
All possibilities of search- and filter functions can be used in order to have table created, displaying only the desired delivery instructions.  
Please tick the boxes in front of the desired delivery instructions and then click on "Download" underneath the table in order to select if a VDA or a CSV file should be downloaded. By ticking the box in front of the headline, all delivery instructions will automatically be selected at once.

In this example, a CSV file has been downloaded. As visible, the detailed Information for the delivery instruction such as Delivery Date and Dispatch Qty. has been transferred to columns AK and AL in the CSV file.